I watched quite a bit of anime in 2018. More than I had watched for a while, and it was fantastic! There were so many amazing shows, some which were continuing with new seasons, and some completely new ones. There was an anime for everyone last year. And here's hoping that 2019 will have some great shows as well. Here are seven anime I enjoyed last year.
7. Attack on Titan (genre: action, drama, mystery/horror)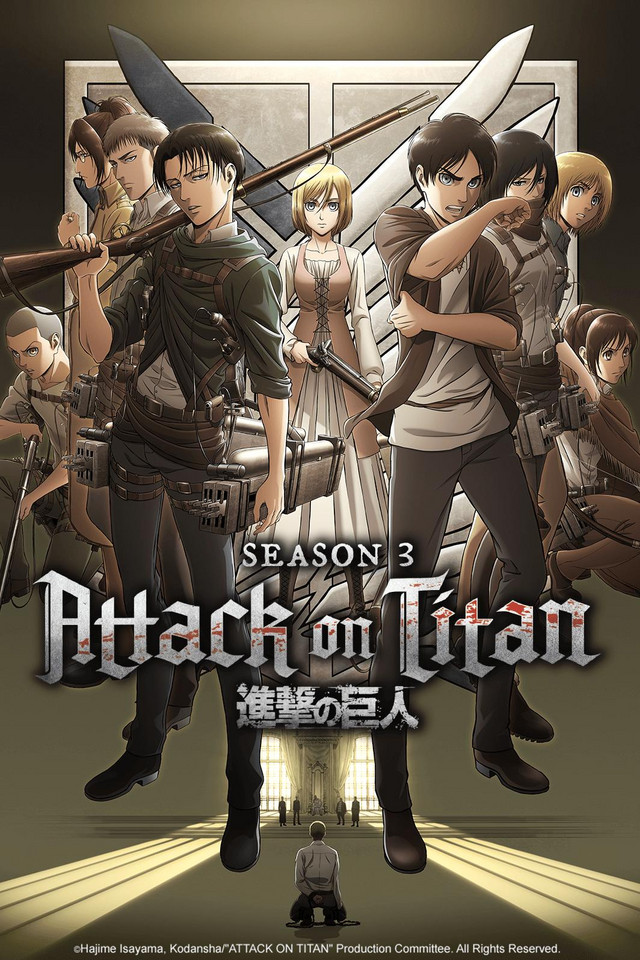 The Summer of 2018 brought us the 3rd season of the always highly anticipated, Shingeki no Kyojin or Attack on Titan. This season saw a change in pace, with the titan killing minimised en lieu of some political intrigue, backstory, and world building. It was a thrilling watch nontheless, and I'm very excited for the second part of season 3 to return in April.
In case you don't know what it's about, Attack on Titan tells the tale of a civilisation which survives within three 50 metre tall walls, as human eating giants wander the outside world. The military utilises 3D or omni-directional gear, which allows them to manipulate their bodies through the air and engage in combat with the Titans. It can be gory, depressing, and nerve wracking but it's also an engaging and spirited show, and this makes it one of my favourite anime.
6. Hinamatsuri (genre: comedy, slice of life, sci-fi)
Hinamatsuri is a gem. It's hilarious, entertaining, and has a unique premise. A girl with psychic powers falls, literally, into the life of Yoshifumi Nitta, a member of the yakuza. This girl, Hina, proceeds to disrupt his life by generally being the worst, albeit lovable, daughter. She breaks his precious vases, strangles his love life, and gently persuades (bullies) him with her powers. In addition, the supporting cast of characters are also just the best. There's fellow psychic girl, Anzu, with her own heartwarming side story, and the forever unable to catch a break, Hitomi. It's such a fun story, that I've decided to read the manga. It's definitely on my list to rewatch when I have some more time and I would love a second season.
5. Gintama (genre: comedy, action, historical)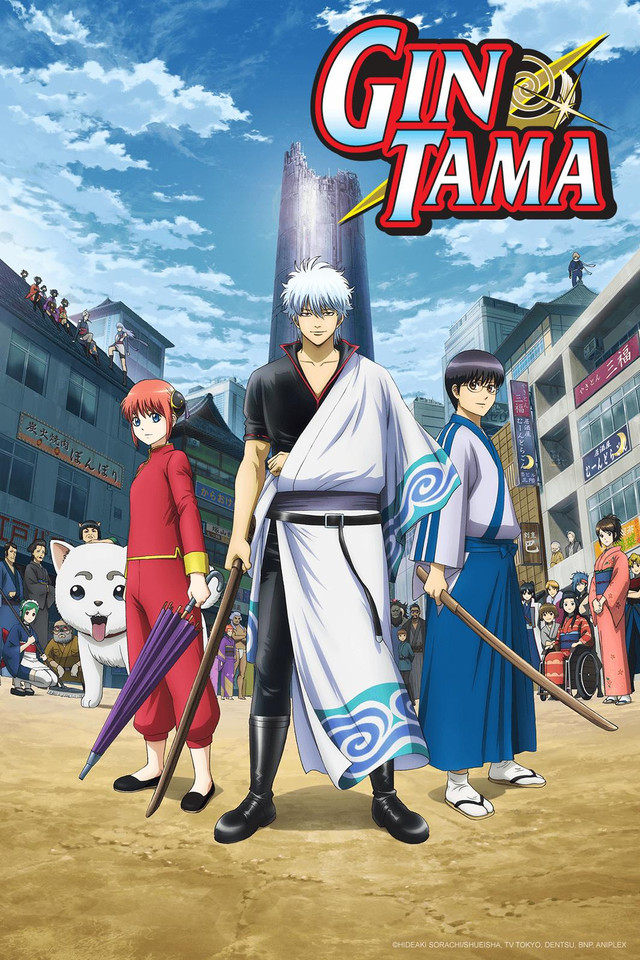 Words cannot express how much I love Gintama. If there's any anime I'm obsessed with, it's Gintama. It's so ridiculously funny. Yet, it also shows great depth, exploring loss and life in a way that can make you cry, before making you laugh like crazy again. It has amazing characters, and whilst the overall story may be hard to grasp at first, everything eventually ties together so well. Gintoki, the lead character, is my favourite anime character ever. Last year's Silver Soul arc was supposed to be the series' last but surprisingly, or maybe unsurprisingly, because this is Gintama, and it has made several jokes about the series ending before, this turned out to not be the case because the manga has not yet reached its end.
Gintama is a story that incorporates many different elements, mostly because it loves to parody other series and events in pop culture. In brief, it follows the at times lackadaisical samurai, Gintoki Sakata, a jack of all trades that lives in an alternate version of Edo, Japan that has been invaded by aliens called Amanto. He has a mysterious past and finds himself in all sorts of situations with his fellow Odd Jobs' members, teenagers Shinpachi and Kagura, as well as their giant dog, Sadaharu.
4. Zombieland Saga (genre: idol, comedy, horror)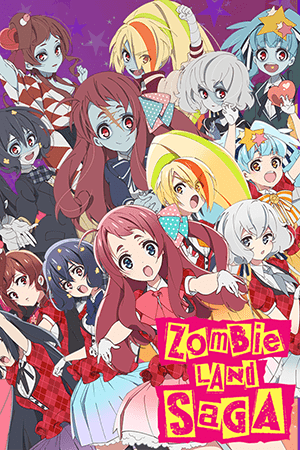 This one is definitely unique. A group of zombie girls are brought together to become a pop singing sensation, or idols, as they call them in Japan. This is orchestrated by the mysterious and hilarious manager x necromancer, Tatsumi Kotaro, in hopes of 'saving' Saga prefecture. Zombieland Saga is the type of show that ensnares you before you know it. It's incredibly funny, and all of the members of the group are likable and stand out in their own way. I think of it more as an anime with an idol twist rather than as just an idol anime. The musical aspect is just as enjoyable because the performances are fun and have heart and the songs are pretty great as well. I absolutely loved the opening sequence, Adabana Necromancy. It's another show, I wouldn't mind having a second season of, as there's much more that can be explored.
3. Run With the Wind (genre: sport, drama, slice of life)
I can't help but smile when I watch this show. It's just such a pleasure to watch. Run with the Wind is about some students at Kansei University making a bid to run the Hakone Ekiden, one of, if not the most, important running events in Japan. All of the team members, except for Haiji, the leader and mastermind, were unaware that they were even living in housing intended for the university's running team. Haiji triumphantly ropes in the stand-offish Kakeru as the tenth member of the house and then reveals his intentions to the boarders. All with the exception of Kakeru and himself, without any or much running experience. Nevertheless, Haiji is able to talk everyone into running and their training begins. This show shines because of its characters. It has excellent character development. It's a delight watching the boys interact and strengthen not only their relationships with each other, but aspects of themselves as well. The soundtrack is also amazing. It's still on this year, so I'll continue watching it with excitement and glee each week until its conclusion.
2. JoJo's Bizarre Adventure (genre: action, adventure, supernatural, fantasy)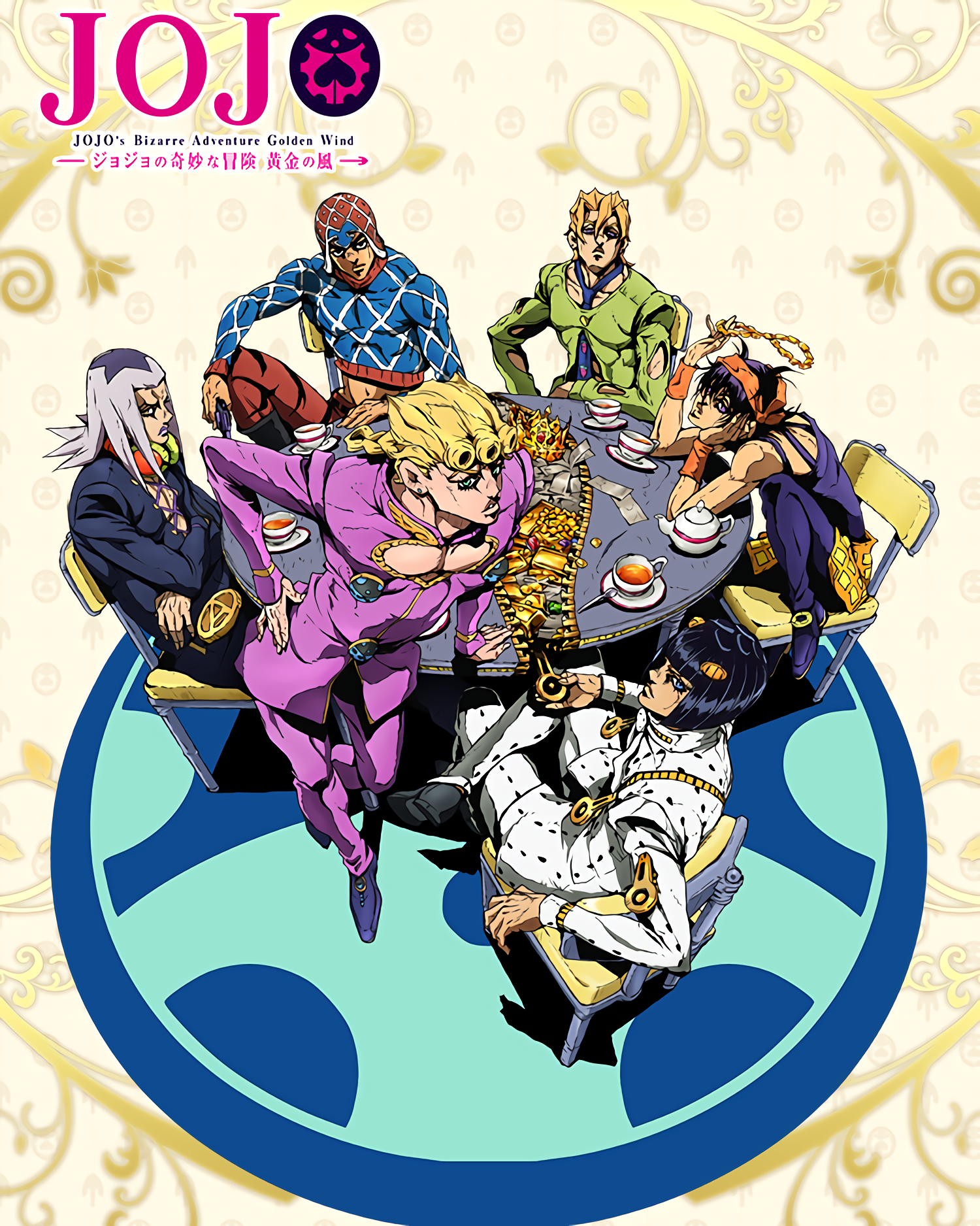 Where should I start with Jojo's Bizarre Adventure? This show follows the lineage of the Joestar family, starting with Johnathon Joestar in the 19th Century, as its members find themselves in strange, and dangerous situations, from battling vampires, and ancient Aztecs, to engaging in Stand battles. Stands being a ghost like incarnation of one's fighting spirit. The Fall anime season brought us the fifth season, Golden Wind, which is set in Italy and follows Giorno Giovanna on his quest to become….a GangStar. What I like about this anime is that, quite simply, it's fun to watch. It also has a vivid and one of a kind art style. The battles require tactical strategies and innovation to be won, and the characters can be anything from outlandish, to taciturn, funny, or even downright psychotic. The manga has been an important cultural influence on the ani-manga industry since the 80's, and watching the show it becomes clear why, even if it can be quite perplexing at times (say a prayer for the animals).
1. Golden Kamuy (genre: action, adventure, historical)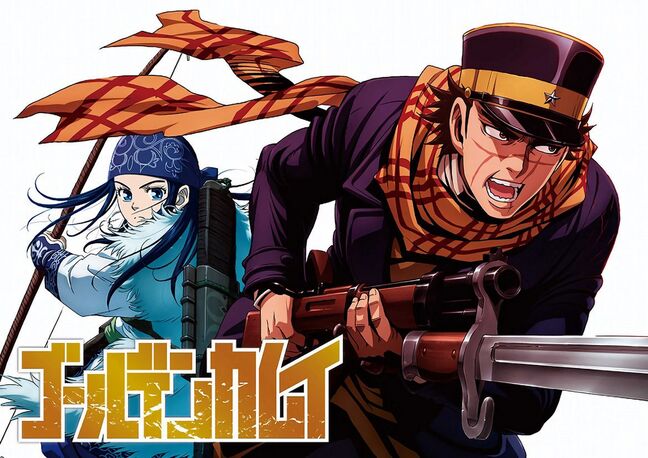 Golden Kamuy is a ride. It was a highlight of the year for me. It's an action packed story with one of the strongest cast of characters I've seen. The story begins with Immortal Sugimoto, the moniker given to Saichi Sugimoto, a survivor of the Russo-Japanese war. While panning for gold in Hokkaido, a man tells him a curious tale about a map tattooed in fragments across the bodies of several prisoners, which leads to a large stash of gold. This is the catalyst which causes everything to unfurl. Sugimoto meets Asirpa, a knowledgeable Ainu girl, and they team up to complete the map and find the treasure. Through a series of thrilling, sometimes serious, sometimes funny, events, their team begins to grow bit by bit. Golden Kamuy also showcases quite a bit of the Ainu culture, which never ceases to be an interesting and delightful part of the series. It's quite the adventure and balances its comedy and more serious themes extremely well. I'll definitely be picking up the manga to continue the story.